WebAdvisor
---
In order to access WebAdvisor, you must have either Internet Explorer version 8 or higher or any version of Firefox.

If you receive a message saying the page cannot be loaded, it is most likely due to the use of an older version of Internet Explorer. You can either upgrade your Internet Explorer software or download the FireFox browser by clicking on the link below.


Click HERE to download Firefox
If you still experience problems accessing WebAdvisor, please contact the LCCC Information Technology Help desk at (800) 377-5222 x7711 or at hdesk@luzerne.edu.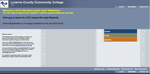 Click HERE to proceed to WebAdvisor