WSFX Programming
---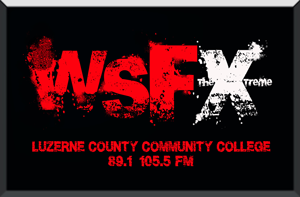 WSFX-FM has a variety of programming, including a student public affairs show "Campus Talk" and live sports broadcasting of LCCC men's and woman's basketball.
Our 24 hour broadcast allows plenty of college/alternative to fill the airwaves. WSFX-FM has a superb blend of current name makers and tracks that have grown with the college music scene since 1990.
Metal Shop Tuesday's will have you amped up all day long.
Hip Hop Thursdays mixes the flavors of the past with the current trends of Beat Box world.
Music programs also include a 20 year music program called "Friday Rewind". This "blast to the past" returns listeners to the 60's, 70's, 80's and 90's. It's not a necessity to wear love beads or dye and spray your hair to enjoy the return to the decades of the past.
Occassionaly, WSFX-FM opens to other music genres like Latin, Jazz or Big Band. Each semester has various outlets.
Live broadcasts of LCCC's Men's Trailblazer Basketball highlight the January calendar.