Hazleton
---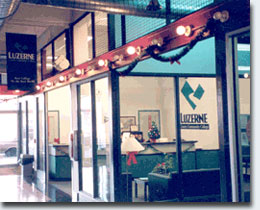 * Dedicated Center
Class Location:
Hazleton Center
Broad Street Exchange Building
100 West Broad Street, Suite 108
Hazleton, PA 18201
570-453-3140
The Hazleton Center in downtown Hazleton offers a convenient location for residents downtown and surrounding communities. Classes are offered both day and evening. Plus we offer career counseling and advising, placement testing, tutoring assistance, and credit free short-term programs.
---
* * * Center Announcements * * *

Student Support Services
Linda Condusta, Title III Coordinator is available at the Hazleton Center to assist students with a variety of student support services. These services include academic advising, tutoring services, financial aid information, career counseling, transfer advising and admissions requirements. For more information or an appointment, please email Linda Condusta at lcondusta@luzerne.edu
Need Help With Writing A Paper? Help Is Available.
A Title III Strengthening Institutions Initiative
The Write Place. LCCC's Online Writing Center
How can The Write Place help me?
Our faculty reviewers can assist you in:
Polishing your final paper
Tackling complicated areas, like citations
Ensuring your project addresses the assignment
Following standard practices of formal written English
Available to all LCCC students for any class project that requires a written assignment.
Find The Write Place's link on our Student Intranet or at https://studentportal.luzerne.edu/writingcenter/
Help other Students and Get Paid for Doing It. Become a Peer Tutor.
TITLE III STRENGTHENING INSTITUTIONS
LCCC PEER TUTORING PROGRAM
Is PEER TUTORING right for you?
Peer tutors are students assisting other students in an array of subjects.
You can become a peer tutor by contacting Linda Condusta at lcondusta@luzerne.edu
What a great way to earn a little extra cash (as a tutor) as you wait for your next class. No additional gas costs if you are already on campus, looks great on a resume, and we pay $7.25 per hour.
Tutoring is convenient for both tutor and tutee, as flexible scheduling is meant to accommodate both personal schedules.