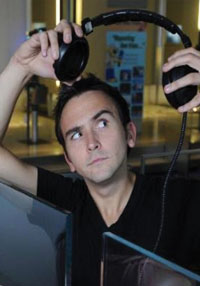 McFly takes on Washington
Tommy "McFly" Pavlick '06, a Washington, D.C. radio personality and Luzerne County Community College alumnus, recently addressed the Class of 2013 at the College's commencement telling the students to "get involved" in life. "Whether you"re the next Einstein or the next Snookie, that's awesome," McFly said during his energetic and rousing speech.
He encouraged the students to take risks and remember their education at LCCC. "The professors at Luzerne County Community College who inspired you, made you angry, made you crazy, were almost always right. And there is no telling the moment you will realize it."
Tommy McFly is no stranger to taking risks. Even while he was still in high school, he took risks to eventually reach his goals.
"I wanted to be a lawyer," recalls McFly. "My mom works in the D.A.'s office and my dad is a state trooper. So as a teenager, I was looking to attend a law school."
The Mountain Top resident also loved radio. He became fascinated by the well-known local radio DJs in the area and soon found himself dreaming of hosting his own radio show. "I always knew I wanted to tell stories on the radio and television. That's how to really connect to people," McFly says.
McFly knew a law intern and friend of the family working at the District Attorney's office who also worked at Froggy 101.
"I stalked this guy and kept bugging him to get me a job at the station," he says. Eventually it worked.
"I started in the promotions department at Froggy"s radio station," McFly remembers. "I would attend events held around the area, and yes, I had to wear the frog costume."
Eventually, McFly was offered his own show, overnights on Sundays from midnight to six a.m. "Except for truckers, not a lot of people are listening during that time slot," McFly jokes.
"I still wanted to be a lawyer, but then I got the Saturday all request night show " it was in eleventh place at the time," McFly says. "I had not a clue what I was doing, but then in a year and a half it went from eleventh to number one, and that"s when I realized I wanted to do this."
His night job eventually led to co-hosting and producing "The Doc Show." "They really shaped my personality on the air." Froggy 101 dominated the market in northeastern Pennsylvania in ratings making Tommy McFly a household name in the area. Tommy earned his on-air name while at Froggy. McFly also sent the hit TV show "The Office," based in Scranton, tons of Scranton paraphernalia, including Froggy 101 bumper stickers. The bumper stickers were displayed prominently in Dwight"s cubicle on the show.
McFly realized that even though he was succeeding on his own in the broadcast field, he felt he needed an education to really shine. "My parents ingrained in me that education was important," McFly remarked. LCCC worked well with his non-traditional schedule allowing him to take classes in the evenings and afternoons.
"The media and broadcast department at LCCC is fantastic," he states. "The instructors simultaneously worked in the field. They treated me like a peer, not some kid." He achieved his broadcast communications degree in 2006, helping shape McFly's experience and path to success in the field.
"My ambition was right on top of the totem pole and I never thought a class like Field Production at LCCC would burrow lessons into my head that I wil now use for years to come," McFly states. "My first day on television in D.C., I was lugging tripods and white balancing cameras. My teacher, Ron Reino, was right about that."
At the age of 20, McFly provided a CD and resume to consultants in the business who shopped his personality and ideas to several large markets throughout the country. Soon, McFly was interviewing for stations in cities such as Atlanta, Dallas, and Washington, D.C.
"I met with a station in D.C. and thought this would be a great opportunity that wasn"t too far from my home," McFly says. "I left Mountain Top with my car, some clothes, a Matchbox 20 CD, and a toothbrush to join a team of people that I had barely had lunch with. There was no grand plan. I never imagined that I would be interviewing celebrities, riding in a fighter jet, or hosting inaugurations and Easter Egg hunts on the White House lawn."
McFly started his career in Washington as the executive producer and personality of The Jack Diamond Morning Show on WRQX-FM. He handled planning and daily execution of the show and finding celebrity guests. After two years, he was promoted to host his own evening show on MIX107.3. Two years later, the Tommy Show moved to its present home as the morning show on 94.7 FRESH FM. "I always wanted to host a morning show," McFly says. "Now I finally have that chance to broadcast to a city I absolutely love."
During the 2013 Inaugural festivities, McFly was tapped to be the emcee of the President's National Day of Service with Chelsea Clinton at the National Mall. McFly, who has also served as official emcee of the White House Easter Egg Roll for the past three years and as the National Christmas Tree Lighting Pre-Show host in 2012, is the first person chosen to hold the microphone at all three.
Each morning McFly and co-hosts Collis and Jen Richer bring their own brand of crazy with personal stories, real opinions and friendly wit to the airwaves. They encourage all to "Get Involved" and quickly be inducted into their dysfunctional family.
McFly, a Washington Business Journal "40 Under 40" alum, continues to take an active role in every segment of Washington and makes helping others a high priority. He served as the chairman of the Washington Humane Society"s marquee event, Fashion for Paws, which has raised more than $2.2 million in just six years.
Additionally, McFly works continuously with the Best Buddies, GW University Mobile Mammography Unit, The American Red Cross, Chris4Life Colon Cancer Foundation, The Alzheimer"s Association, and many other organizations on projects throughout the year. In October of 2012, McFly challenged his listeners to raise $20,000 for the GW Mobile Mammography Unit. The donations came pouring in, so he bleached and dyed his hair pink. When a local girl scout troop"s cookie fund was stolen, McFly and his crew set up a table and broadcasted a cookie sale on air bringing droves of people to replenish the stolen funds.
He says the broadcast world is the ideal place to tell people"s stories and do good for others. "I really believe in taking part in the world and diving in to help out those in need," McFly states.
McFly's advice to those who wish to go into this field: "You need to know in your heart you want to do this," he says. "There will be those who try to discourage you, but if you truly know this is the career for you, rock it out!"
He says having your own radio show is like running a small business; you need to understand many facets from marketing to public relations to keep yourself out there. "The days of having one job, like anchorman, have long gone," he points out. "There are many aspects of this career you need to learn. You have to commit to the media lifestyle and also be able to share your life on the air. Listeners and viewers need to be able to relate to you."
As he pointed out to LCCC graduates, he encourages others to take risks and follow their path. "You have a million choices ahead of you, and you can do whatever you want," says McFly. "Never lose your fire or passion. See how far you can push yourself. You"re gonna hit curveballs along the way, but that"s part of the fun."