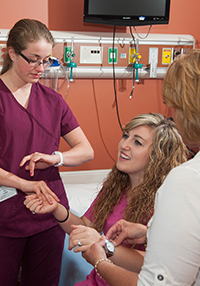 A nurse aide provides hands-on care to patients and observes the patients physical, mental and emotional conditions. This includes taking the patient's temperature, pulse and respiration rate. The aide must also prepare and serve meals (mash up the food if necessary), bathe, and dress the patient.
"This job isn't for everyone," Brittany Samsal says. "However, this course helped me out a lot. It taught me the proper patient care, how to handle working with other workers, and how to deal with the daily living skills for patients." Tammy Ondeck teaches the nurse aide classes. "I like this course because it gives students a chance to see if they really like this field," she says. "It's extremely important that you treat patients the way you want to be treated, because you become part of their family," she adds.
The Nurse Aide Training program is taught at the LCCC Francis S. and Mary Gill Carrozza, RN Health Sciences Center in downtown Nanticoke. Classes are held in a simulated medical facility. In the classroom, Megan Bartuska is observing as one of her students is practicing how to perform blood pressure on another student.
"Understand you're caring for a real person," Bartuska says to the students. "You have to take care of the patient like you would yourself."
A cart next to the bedside carries blankets, hospital gowns, and gloves ? all of the items found in nursing facilities and hospitals. Students practice use of privacy curtains which surround the beds of patients.
Similar to any health care facility, the students must follow rules to help give them the hands-on experience they will face in the future. To understand those rules, Bartuska prepares them for their Red Cross certification by having the students practice their skills training and adhering to the Red Cross guidelines publication which the instructors have dubbed "their bible." "The steps are brutal," Bartuska says. "Follow your steps, follow your bible," she keeps repeating to her students.
"It's important that you do what you think you're supposed to do," Bartuska states. "I am the Red Cross watching what you do. Forget that I'm here and take care of your patents," she says as she watches her student Tyler, as he's attempting to correctly put a sock on another student acting as a patient. After LCCC, Tyler plans on continuing his education and hopes to be a future doctor.
"Nurse aides don't get the recognition they should. Aides aren?t thought about and that?s what bothers me," she says. "I want to see people getting help. This is a very good program, because these students deserve the recognition," she says.
According to the Bureau of Labor Statistics nursing assistants held about 1.5 million jobs in 2012. More than 75% of all nursing assistants work in hospitals, nursing and residential care facilities.
The median annual wage for nursing assistants was $24,420 in May 2012, that's an hourly wage of $11-15.00. Most nursing assistants work full time. Since nursing homes and hospitals provide care at all hours, nursing aides and orderlies may need to work nights, weekends, and holidays.
Students who wish to take the Nurse Aide Training Program at LCCC can visit the Continuing Education Office in person at the Main Campus in Nanticoke or call (800) 377-5222 ext. 7495 or ext. 7489 for registration details.
Click here for me information about LCCC's Nurse Aid program
Story written by LCCC Journalism student Amber Matinas