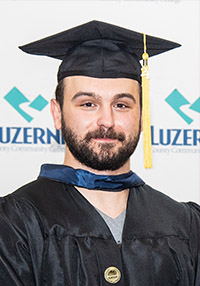 Navy Veteran Finds Success at LCCC
"When I was 17 or 18 and thought I was one of the cool kids, I made fun of classmates who planned to attend to a community college. Looking back now, I couldn't have been more wrong," explained Ryan Evans, 28, who graduated from Luzerne County Community College in May 2021. "I cannot verbalize how important this college has been to my life. It changed my trajectory."
Evans struggled as a teenager and young adult. After the death of his alcoholic father while he was in high school, Evans turned to drugs and alcohol to numb the pain. He received his diploma and went on to college, but after attending three semesters and accruing $30,000 in student loans, he dropped out because he was partying too much.
He moved home and began working at a gas station.
"Many of my former high school classmates were patrons of my employer. I could see them all doing well, getting ready to graduate college and start careers while I worked for minimum wage in a dead-end job," said Evans. "I was falling off barstools every night. Something had to change."
In an effort to turn his life around, Evans enlisted in the United States Navy in April 2014. Following bootcamp that September, he was deployed to Japan for three and a half years. He excelled in the service, thriving in the stability and camaraderie he found with his fellow service members. In 2018, he was awarded the Navy & Marine Corps Achievement Medal, which he received for outstanding performance and leadership during the duration of his deployment, and started considering options for when he returned home.
"I applied for Luzerne County Community College from my apartment in Tokyo," Evans shared with a laugh. "I didn't have a plan for when I got out, but I had to be careful not to fall into my old patterns."
During his first semester at Luzerne, Evans was asked to speak during a college-hosted event for the 22-a-Day Initiative, which raises awareness of the staggering average of daily Veteran suicides across the United States. Tragically, one of Evans' friends had recently taken his own life, giving him an especially powerful story to share at the event. His emotionally-charged speech propelled him into other leadership roles on campus, and Evans now works with veterans who share his PTSD diagnosis.
"I'm fully convinced Luzerne County Community College is the most veteran-friendly school in the nation," said Ryan as he detailed the benefits offered by the college to former service members and their families.
Evans plans to transfer to a four-year university this fall and pursue his bachelor's degree in marketing. He hasn't made a final decision on his destination, but praises the transfer resources offered by Luzerne, saying, "I'm a bit of a worry wart, but Luzerne County Community College has made it easy for me to transfer my credits and continue my education here in Pennsylvania."
"I believe people are not the product of their environments, but the architect of them," Evans reflected on his journey. "Luzerne County Community College helped me find success and build a bright future."