LCCC History
---
History | LCCC Timeline | Photos | Alumni | Gala Event
Aug 17 1966
The Luzerne County Board of Commissioners request approval from the PA State Board of Education to sponsor a community college.
Sep 15 1966
Permission is granted from the PA Board of Education allowing the Luzerne County Board of Commissioners to establish and operate a community college.
Nov 7 1966
LCCC formally begins operation as the Trustees hold their first meeting and elect officers. Guy V. Ferrell is appointed the College?s first President.
Oct 2 1967
LCCC opens its doors for the first time with 836 students attending classes in Wilkes-Barre. Tuition is $12.50 per credit.
Fall - 1968
Candidates for SGA offices present their campaign platforms before a full student body audience. The event was held in the JCC auditorium.
1968
The freshmen and sophomore women of LCCC challenge each other to a game of ?Powder Puff Football.? Kirby Park hosted the unique contest.
1968
The LCCC Drama Club presents Edward Albee?s The American Dream. Newspaper reports state, ?Critics? reactions to the evening performance were favorable and considered the show quite a success for LCCC?s first dramatic offering.?
1969
After weeks of using Kirby Park, the new LCCC student parking lot is located beneath the Kingston end of the Market Street Bridge.
1969
Wrestler John Brominski represents LCCC in the National Jr. College Region 19 Tournament conducted in Worthington, MN.
May - 1969
The Honorable Daniel J. Flood gives the Commencement Address at ceremonies conducted at the Irem Temple in Wilkes-Barre. 195 students received diplomas at LCCC?s first graduation.
1971
The LCCC Hotel & Restaurant Management Program establishes a cooperative agreement with Cornell University.
1971
Joel Kislin wins the NJCAA heavyweight championship in Worthington, MN. Also competing at the event were Tom Davis and Gary Alters. Coach of the wrestling team was W. Brooke Yeager, III.
Jun 23 1972
Flood waters caused by Hurricane Agnes severely destroy LCCC?s Wilkes-Barre facilities. Fall classes do not begin until October.
Jun 13 1973
Rep. Daniel J. Flood announces the awarding of a $632,756 grant to help fund the construction of two buildings on the new LCCC campus located in Nanticoke.
Spring - 1974
LCCC opens permanent Main Campus site on 122-acres in Nanticoke. New facility consists of eight buildings.
Fall - 1973
LCCC begins a two-year Associate Degree Program in Nursing.
Fall - 1974
A newly-developed Day Care Center is now operational on LCCC?s campus. The center, operated by the Child Development Council of Northeastern PA, accommodates 15 pre-schoolers and 12 toddlers.
Oct 17 1974
The LCCC cross country team, under the guidance of Paul Kretschmer, extended its record to 7-3? the best mark in LCCC history.
Nov 30 1974
The men?s basketball team defeats PSU Hazleton to record its 38th consecutive home victory. Earlier in the week LCCC christened its new gymnasium with a win over Lackawanna Jr. College before 1,000 fans.
1975
Circle K Club receives its Charter from the Nanticoke Kiwanis Club.
Aug 20 1976
A record group of nearly 600 new and transferring students attended LCCC?s orientation.
Aug 23 1976
LCCC begins its 10th year as classes begin for the fall term.
Jul 22 1977
Senior citizen?s organizations throughout the region host their ?Candle Light Ball? in the Student Center.
Aug 5 1977
Groundbreaking ceremonies are conducted for construction of the $1.6 million Dental/Nursing facility (building 9).
Nov 11 1977
Alumni Association hosts its annual Dinner Dance at the Regency Room of the American Legion Post Home located on River Street in Wilkes-Barre.
Dec 7 1977
34 LCCC female students model in the ?Dressing for College? fashion show conducted at the Pomeroy?s Community Room.
Dec - 1977
LCCC makes a final payment of $604,000 on the overall cost of $8,832,084 for the purchase of the 122 acre campus and construction of either academic and student service buildings located in Nanticoke which opened in 1974.
Feb 23 1978
The women?s basketball team easily defeats the University of Scranton, 79-55, to finishes the regular season undefeated at 18-0.
Mar 20 1978
A huge crowd greets the women?s basketball team at the airport on its return home from Overland Park, Kansas after competing in the NJCAA National Tournament. The team, under the direction of Ruby Carmon, finished in 5th place after beating teams from Wyoming, Kansas, Arizona, and Texas.
Mar 31 1978
LCCC hosts the PA forensics Association State Championships. LCCC is the only 2-year instititu9in participation among the 20 colleges entered.
May - 1978
In a move that runs contrary to the national trend in higher education, LCCC lowers its tuition cost from $21.50 a credit hour to $20.00 per credit. This change is due to LCCC?s ?rapid upsurge in enrollment.
Sep 17 1978
Plans finalized to open off-campus site in Hazleton. Cost of tuition is $21.50 per credit hour.
Fall - 1978
TACKLE program started at the College. Students may now receive credit for ?life experiences.?
Nov 7 1978
Sharon Jarell, of Kingston, captures the EPCCAC Cross Country title with at time of 16:56 over the 2.5 mile course. The event was hosted by LCCC.
1978
LCCC School of Nursing is awarded formal accreditation by the National League for Nursing. That year 94 students graduated from the nursing program.
Feb 4 1979
LCCC develops its Fire Science curriculum with one-and two-year degree programs.
Apr 26 1979
Medical Arts Complex (Building 9) formally dedicated and ribbon cutting ceremonies conducted.
Spring - 1979
Samuel J. Lesante, Board of Trustees, contacts Governor Richard Thonrburgh and offers LCCC?s facilities as a ?temporary operational command post for you and your staff or any segment of the state government you designate? in wake of the Three Mile Island Nuclear Power Plant crisis near Harrisburg.
May 31 1979
Jessica Savitch, NBC Washington-based news correspondent, addresses the 1979 graduating class of 470 students.
Dec - 1979
For the first time in its history, LCCC will participate intercollegiately in men?s and women?s and co-ed volleyball. Coaching the team is Henry Westfield.
Sep 24 1980
Board of Trustees appoint Thomas J. Moran as LCCC?s third President. Moran served as President from 1980 to 1990 and again from 1995 to 1997.
Oct 5 1980
Newspaper article cites the LCCC campus bookstore as the ?all department store on campus.?
Oct 20 1980
LCCC enters into a written articulation agreement with 11 four-year colleges for the purpose of allowing graduates to get a baccalaureate degree.
Jan 15 1981
LCCC welcomes 150 new students to campus during orientation activities conducted for the Spring ?81 semester.
Jan 18 1981
The Dental Clinic is opened to the public. Fees for all services are adults $4.00, children $2.50, and Senior Citizens are served free of charge.
Jan 19 1981
A Fire Prevention Information Center House in the College?s Library is dedicated. The center houses films and printed materials relevant to fire prevention and safety.
Spring - 1981
LCCC establishes a full-tuition scholarship in memory of the late Francis P. Crossin, former LCCC trustee and County Commissioner.
Jul - 1981
The $2 Million Educational Conference Center opens its doors for the first time to the general public.
1982
LCCC Foundation, Inc. is established.
Jan - 1983
LCCC begins offering credit, classes in journalism through its Print Media Program.
1983
LCCC begins offering evening classes at the Tunkhannock Area High School and day classes at the Oblates of St. Joseph in Pittston.
Dec 11 1984
The first issue of the student newspaper, The Outlook, is published.
Dec 13 1984
LCCC receives approval for its Phlebotomy Training Program which is run through Continuing Education.
Jan 10 1985
LCCC?s Displaced Home maker Program wins Pennsylvania?s ?Exemplary Program Award.?
Apr 25 1985
LCCC beings to offer weapons training program. This new program is being run through the Continuing Education Office.
May 18 1985
The Community College begins to offer telecourses broadcast on television though a joint agreement with WVIA.
Nov 19 1985
LCCC hosts a statewide crime protection conference entitled ?War on Crime ? The Pennsylvania Perspective.?
Apr 27 1986
Humanities instructor David Stout introduces the start of a ?Spring Film Series? to be offered on campus.
Aug 20 1987
The Community College?s Career Planning and Placement Center opens with its facilities located in Building 9.
Aug 27 1987
The College breaks ground for construction of the $7.9 million Advanced Technology Center.
Oct 14 1987
The broadcast Communications Department announces it will be ?going on the air!?
Oct 24 1987
The College celebrates its 20th Anniversary.
Oct - 1989
LCCC Alumni Association holds its first annual Craft Fair
Feb 8 1989
Veteran basketball coach Jim Atherton wins his 500th career victory.
Aug 19 1993
LCCC establishes an off-campus site in Lackawanna County.
Jan 1 1994
LCCC goes ?smoke free? in all of its buildings.
Jun 7 1995
Malcom S. Forbes, Jr. is the guest speaker for the LCCC foundation?s annual Corporate Dinner conducted at the Woodlands Inn and Resort.
Jul 1 1995
Brigid Murray O?Connor becomes first female chairperson of the LCCC Board of Trustees.
1998
New logo introduced at LCCC. College colors change from red, white, and blue to teal and navy. LCCC sports teams name called the Trailblazers.
Jun - 1998
LCCC builds it's newest building, the 72,000 sq. ft. Campus Center, which holds the College?s President?s Office, College Bookstore, Student Clubs area, Cafeteria, and Counseling and Student Support offices.
Sep - 1998
15,000 sq. ft. addition is added to Building 4 to house five new science labs, associated prep and storage areas, new faculty offices, and science classrooms.
Jan - 1999
Business and Industry Training Inst.
Jul - 1999
Building 7 is renovated and dedicated as the new Business and Computer Center, housing CIS and Business programs and faculty.
Apr 26 1999
LCCC?s first dedicated site, Wilkes-Barre Center, opens in the renovated Pomeroy?s building on Public Square in Wilkes-Barre.
Fall - 1999
Northumberland Regional Higher Education Center in Shamokin opens.
Fall - 2000
Hazleton Center opens for classes.
Oct - 2001
New site opens in Kulpmont dedicated to nursing program.
Oct - 2001
College opens new greenhouse for Horticulture program.
Feb - 2003
Center for Business Solutions developed to initiate customized training for business and industry.
2003
Partners in Workforce Education program initiated.
Spring - 2003
Berwick Center opens its dedicated site.
2006
Two new student organizations NAACP and Amnesty International formed on campus.
Oct - 2006
The Schulman Gallery, the College?s first named facility, opens in the Campus Center. The new gallery opens with student Old Masters art exhibit.
Jan - 2007
LCCC offers new Weekender program with degrees offered at the WIlkes-Barre Center and hybrid Distance Education.
Jan 20 2007
Dedication for LCCC's gymnasium to be renamed after Coach Jim Atherton, retired Director of Student Activities and Athletics and Men?s Basketball coach.
Mar 30 2007
Public Safety Training Institute (PSTI) groundbreaking ceremony held at PSTI site.
Aor 25 2008
Public Safety Training Institute begins operations with dedication ceremony.
Jan 26 2010
New Culinary facility in downtown Nanticoke named the Joseph A. Paglianite Culinary Institute.
2011
Health Sciences Center dedication ceremony held. Classes begin fall 2011 semester.
Jun 26 2012
LCCC receives the Pride of Place Award for the Joseph A. Paglianite Culinary Institute from the Greater Wilkes-Barre Chamber of Business and Industry.
Sep 21 2013
LCCC's Health Sciences Center is named in a dedication ceremony the Francis S. and Mary Gill Carrozza, R.N. Health Sciences Center. The Center also received the 2013 Greater Wilkes-Barre Chamber of Commerce Environmental Enhancement Award.
Sep 29 2014
LCCC receives 10 million federal TAACCCT grant to develop new degree and career programs in high priority career fields.
Nov - 2015
LCCC Cross Country runner Curtis Bates places 12th - National NJCAA Men's Cross Country Meet
Summer - 2016
LCCC opens its Writing Center to the public, moves to new expanded location in Building 9
Aug - 2016
LCCC Scranton Center has ribbon cutting and opens for classes in the Marketplace in Steamtown mall in downtown Scranton
Sep - 2016
LCCC goes completely "smoke free" on campus
Jan 3 2017
LCCC begins its 50th Anniversary celebration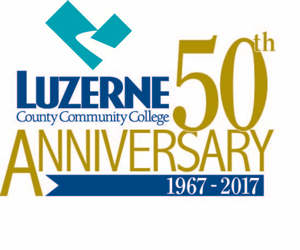 Oct 13 2017
LCCC - 50th Anniversary Video
Feb 10 2014
The Writing Center opens
Aug 29 2016
Campus becomes smoke-free
Sep 21 2017
Ribbon-cutting ceremony for Head Start Center
Oct 2 2017
50th Anniversary day
Oct 3 2017
Time Capsule opening of the 1992 capsule
Oct 4 2017
Ribbon-cutting ceremony for Wilkes-Barre Student Food Pantry / Wilkes-Barre City Proclamation Event
Oct 5 2017
Ribbon-cutting ceremony for Walking Trail
Oct 7 2017
50th Anniversary Golden Gala @ Mohegan Sun with Eddie Day as the entertainment. LCCC Foundation raised $150,000 as a result of fundraising for the GALA. Wrestling Reunion @ the 50th Anniversary Golden Gala
Oct 26 2017
Ground breaking for Pittston Center
Nov 13 2017
Veterans Center dedication
Dec 5 2017
Time Capsule reburied with items from 25th and 50th Anniversary
Jan 19 2018
Selma to Montgomery Art Exhibit opens In Schulman Gallery
Feb 19 2018
Veterans Center Open House
Jun 20 2018
New English as a Second Language (ESL) academic program announced
Aug 8 2018
English As A Second Language
Aug 16 2018
Pittston Center ribbon-cutting ceremony
Aug 21 2019
Greater Susquehanna Center ribbon-cutting ceremony
Sep 4 2019
AllOne Addiction Recovery Educational Institute ribbon-cutting