Pittston
---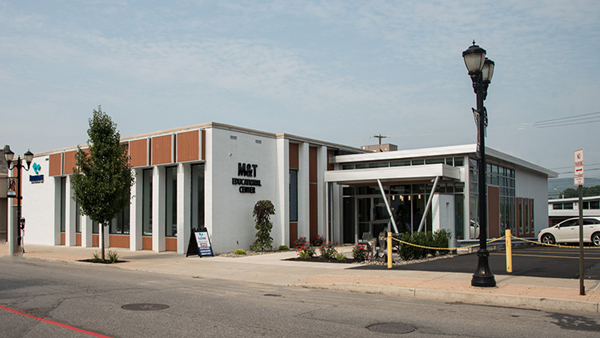 * Dedicated Center
Class Location:
Pittston Center
13 S. Main St.
Pittston, PA 18640
800-377-5222 ext. 7270 or (570)740-0270
Welcome to the Pittston Center!
Welcome to the newest LCCC location, the Pittston Center located at 13 S. Main Street in downtown Pittston. Located in the M & T Educational Center on Main Street in downtown Pittston, the Center offers both day and evening classes for residents of Pittston, upper Luzerne County and the surrounding areas. Students can complete General Education requirements for many degrees offered at Luzerne County Community College and all of the general education requirements for Health Science majors.
At the Pittston Center, you can:
Register for courses
Take a placement test
Receive academic advising
Use one of our two computer labs
Take credit and non-credit courses
Offer day and evening courses
Professional Development

Pharmacy Tech
Phlebotomy
Basic Computers
CPR
Now Open
Monday-Thursday
9am-6pm
570-740-0270
pittstoncenter@luzerne.edu
Follow us on Facebook: LCCC Pittston Center on Facebook
---
* * * Center Announcements * * *
Fall 2019 Orientation
Open House
LCCC Pittston Center Open House:

Wednesday, June 26. Stop in anytime from 12-6 p.m.

The event is open to the community!!

Meet current faculty, staff and students and learn more about the LCCC Pittston Center.

Financial Aid Packages still available for Fall 2019.
May Pittston Center Placement Tests
Placement Test Dates/Times:

Wednesday May 1st - 4PM

Thursday May 2nd - 11AM

Monday May 6th - 11AM

Tuesday May 7th - 6PM

Wednesday May 15th - 4PM

Thursday May 16th - 11AM

Monday May 20th - 11AM

Tuesday May 21st - 6PM

Wednesday May 29th - 4PM

Thursday May 30th - 11AM

Please Call 570-740-0270 to register for your Placement Test at the Pittston Center!