Berwick
---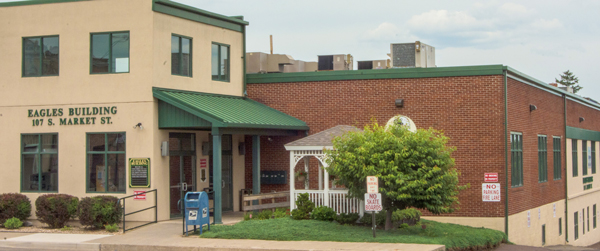 * Dedicated Center
Class Location:
Eagles Building
107 South Market Street
Berwick, PA 18603
570-740-0280
1-800-377-5222 ext 7280
Welcome to the Berwick Center! Located in the Eagles Building in downtown Berwick, the Center offers both day and evening classes for residents of Columbia and lower Luzerne counties and the surrounding areas. In addition to the many credit courses offered, the Center offers short-term, credit-free classes. Career counseling, academic advisement, placement testing, course registration, and tutoring assistance are among the services available at the Center. Our professional staff looks forward to meeting you and assisting you with your transition to college life.
No matter what your long-term goal is, the Berwick Center is an excellent place to begin. The Center offers students seeking transfer to a four-year college many of the core or general education courses needed. Through agreements with various local colleges and universities, students can also complete an associate degree and transfer the entire degree to a participating four-year school. While some programs require that students travel to our main campus for specialized courses, there are several programs that can be completed in their entirety at the Berwick Center. We also welcome visiting students who are meeting requirements at their home school. High school students are given the opportunity to take courses through our Dual Enrollment, Young Scholars, and In-School Youth programs. Our goal is to work with our students in providing the best options for each student's individual needs.
---
* * * Center Announcements * * *
Fall 2019 Orientation
Supplemental Instruction available @ Berwick Center
Instructor Tutoring: Mr.Wasilewski is available to tutor math students taking any math course during his office hours posted in Room 109.

Student Peer Tutors: Apply for free tutor services on the student intranet studentportal.luzerne.edu/tutor/jump.jsp

To Apply to be a Paid Student Tutor: Please see Office Staff
Berwick Center Services
* Apply for admission

* Complete placement testing

* Meet with an Academic Advisor

* Register for classes

* Discuss Transfer/Career options

* Tutoring Services

* SGA and Circle K Clubs

* Diversity/Community Events
Berwick Campus Writing Center Hours
We are pleased to announce a new student service available during the day and evening hours at the Berwick Center. Receive help with Writing Assignments,on a walk in basis,provided by Berwick Center Faculty. Writing Center hours will be posted outside Room 109. For more information call 570-759-3900
It's Time to Register!
The Berwick Center is currently registering for Intersession 2020, Spring 2020 and Summer 2020. We would be happy to help you secure the schedule/classes that meet your academic goals.

Make an appointment with an Academic Advisor today by calling 570-740-0280.
Berwick Center Accuplacer Placement Testing
January 8,2020 Wednesday 10:00 AM

January 9,2020 Thursday 5:00 PM

January 14,2020 Tuesday 10:00 AM

February 4,2020 Tuesday 10:00 AM

February 12,2020 Wednesday 5:00 PM

February 19,2020 Wednesday 10:00 AM

February 27,2020 Thursday 4:00 PM

March 4,2020 Wednesday 10:00 AM

March 10,2020 Tuesday 10:00 AM

March 11,2020 Wednesday 5:00 PM

March 17,2020 Tuesday 10:00 AM

March 19,2020 Thursday 4:00 PM

March 25,2020 Wednesday 10:00 AM

March 26,2020 Thursday 5:00 PM

April 1,2020 Wednesday 10:00 AM

April 2,2020 Thursday 5:00 PM

April 7,2020 Tuesday 10:00 AM

April 8,2020 Wednesday 4:00 PM

April 15,2020 Wednesday 10:00 AM

April 16,2020 Thursday 5:00 PM

April 21,2020 Tuesday 10:00 AM

April 22,2020 Wednesday 4:00 PM

April 29,2020 Wednesday 10:00 AM

April 30,2020 Thursday 5:00 PM