Wilkes-Barre
---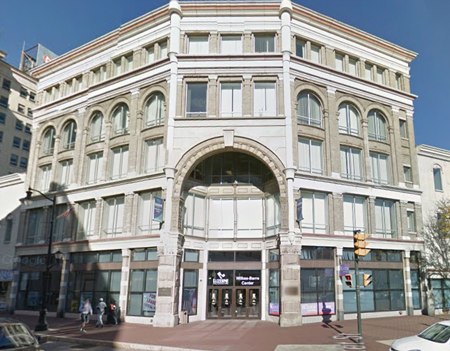 * Dedicated Center
Class Location:
Wilkes-Barre Center
2 Public Square
Wilkes-Barre PA, 18702
570-740-0780
1-800-377-5222 ext 7780
Welcome to the Wilkes-Barre Center!
In partnership with the Greater Wilkes-Barre Chamber of Business and Industry, LCCC established its Wilkes-Barre Center located at 2 Public Square in downtown Wilkes-Barre.
While responding to the training needs of business and industry, the Wilkes-Barre Center also provides a variety of opportunities for high school graduates and working adults to upgrade skills or learn new ones through both credit and creditfree programs.
The Center is a complete educational training facility featuring three networked computer labs, seminar rooms, traditional class- rooms, video-conferencing equipment, "smart classrooms", roll-about units, and complete presentation equipment. The Center also offers unique 13-week class schedules for students' convenience.
With both day and evening classes available, the Wilkes-Barre Center offers the following degree programs:
A.S. Criminal Justice
A.S. General Studies
A.S. Social Work
A.A.S. Criminal Justice
A.A.S. Human Services
A.A.S. Legal Assisting (Paralegal)
Students can also:
Complete General Education requirements for a variety of other programs or majors.
Get a jump start on college by earning college credit while still in high school (at half the tuition rate).
Enroll as visiting students while attending another school.
At the Wilkes-Barre Center, we offer students a variety of individualized and outstanding service. While here, you can:
Apply for admission
Schedule and complete placement testing
Register for classes
Receive academic advisement and support
Sign up for a tutor
Tour the campus
Our Academic Advisors will help you:
Identify and achieve your educational and career goals.
Navigate the College's academic opportunities, policies, systems, and procedures.
Prepare for graduation and/or transfer to a University.
Student Activities
There are many opportunities for LCCC students to become active in campus life. Our students have the opportunity to get creative, explore new interests, make new friends and take on leadership opportunities.
From special events such as Meet the President, Pumpkin Decorating, SPIRIT week, movie nights and Bingo to marching in community parades, and our new "Deck the Doors" Competition.
Students interested in starting clubs should reach out to our staff.
---
Food Pantry
The Wilkes-Barre Center Student Food Pantry provides food to our students who are experiencing food insecurity or may need supplemental food options or personal care items such as shampoo, soap, hats, or gloves. Stop by for some nutritious food and snacks.
---
Success starts here! Are you ready? If you'd like to schedule a tour, or meet with us in person, please call: 570-740-0780. Let's get started!
Adam Blannard
Director
Wilkes-Barre Center
---
* * * Center Announcements * * *
Monthly Movie Kicks Off September 28th!
The Wilkes-Barre Center will be having Monthly Movies. Each month the WBC will offer a new movie. Light refreshments will be offered. Stop in and enjoy a movie between classes. Show times will begin on Thursday, September 28th at 2:00 pm in room 102.
Monthly Movie Night Kicks Off September 28th!
The Wilkes-Barre Center will be having Monthly Movies. Students can stop in an enjoy a different movie every month. Light refreshments will be served. Movies will start at 2pm in room 102. No RSVP necessary. Just stop in and enjoy!