Contact Us at the Wilkes-Barre Center
---
Our professional staff is ready to assist you with your needs. Whether it's scheduling a class for yourself, arranging training for your employees or renting a seminar room for a business or club meeting, we're ready to go to work for you!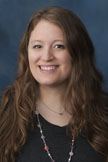 Erica Guarnieri, MS
Director, Wilkes-Barre and Pittston Centers
Email: eguarnieri@luzerne.edu
(570) 1-800-377-LCCC x7272
Hours:
Monday through Thursday - 8:00 a.m. - 9:00 p.m.
Friday - 8:00 a.m. - 4:00 p.m.
---